Start Your Planning for Our National Annual Conference the End of September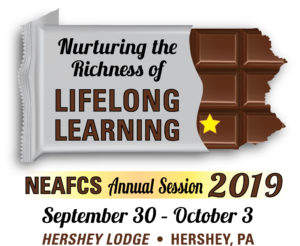 Start Getting Ready for our National Annual Meeting This Fall.
2019 NEAFCS Annual Session Registration Opening Thursday, June 6, 2019
NEAFCS 2019 Annual Meeting website
The NEAFCS website has a lot of information to help you plan whether this is your first meeting or you regularly attend take a look. Many of the popular sessions fill up early so don't wait to get your registration done.
PLAN YOUR SCHEDULE NOW TO MAKE REGISTRATION A BREEZE!
Click on the links below to select your in-depth session and pre-conference workshop, view all education offerings in the full schedule, and registration pricing and information.
And congratulations to Renay Knapp and Emily Troutman, the Winners of the 2019 NEAFCS Annual Meeting Registration Drawing. Make your plans now to join them and have a great time!